Fran Cleland
Endurance riders some of Australia's most successful athletes
A personal reflection on the quiet achievements of an often overlooked discipline
ABOVE: Melanie de Jong, Christine Forrester, Barbara Timms and Meg Wade after winning bronze in 1994. Image courtesy of Equestrian Memories Australia
THE Quilty Gold Cup will be returning to Victoria in 2023.
The pinnacle event for endurance riders in Australia was last run in the state in 2016 near Lexton, but this time the ride will traverse the trails and tracks of the Bunyip State Forest, with the Tonimbuk Equestrian Centre as the event base.
With this year's race just run and won at Tooraweenah NSW, it means I, as a Victorian-based reporter, have just over 12 months to solve the problem of writing on a sport I know so little about.
Or do I?
It has got me thinking.
As a young girl one of my biggest thrills was meeting the stallion Shafreyn at Dora Maclean's Fenwick stud at Yan Yean in Victoria. A deep red chestnut gazing over his stable door, with a white blaze that ran around the side of his head, I fell in love.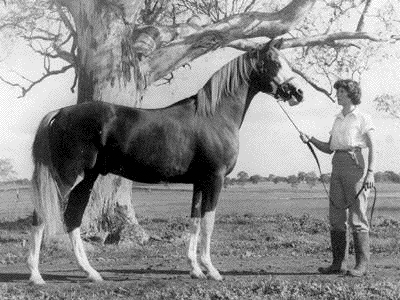 ABOVE: The mighty stallion, Shafreyn.
I became even more interested when I read in the horse lovers' bible Hoofs and Horns that Shafreyn's son, Shalawi, was ridden bareback for 100 miles by a man called Gabriel Stecher in some new race called the Tom Quilty Endurance Ride in NSW, which he won. I asked myself why would anyone do that, ride 100 miles, and why bareback?
So each year after I followed the reports of the ride, and then the reports of other rides overseas.
RM Williams, who owned Hoofs and Horns and was the man behinds the creation of the Quilty, made sure we were kept up with that.
We watched the Quilty grow, with buyers moving in from overseas to secure some of our best horses, and next, the sport of endurance became an FEI discipline and a part of the World Equestrian Games.
Although there's bucket loads of publicity given to dressage and showjumping, which (no offence meant) hasn't won one medal yet, endurance is greatly overlooked. At the 1990 World Equestrian Games in Stockholm the endurance Individual bronze went to June Petersen on Abbeline Lionel.
At the 1994 World Equestrian Games at The Hague the endurance team of Margaret Wade and Glenallan Sheida, Christine Forrester and Mandola Galactic, Melanie de Jong and Vet School Laurance and Barbara Timms and Kildara Sharina won bronze medals.
Securing Australia's mortgage on the third position were the World Equestrian Games endurance teams in 1998 and 2002 (Margaret Wade and Tooheys Red, Shannon Parker and Stanpark Ginnis, Gayle Holmes and Faraway Verdict in 1998 and Margaret Wade and Castlebar Treaty, Kristie McGaffin and Castlebar McLeod, Penelope Toft and Bremervale Justice and Susan Crockett and Jonah in 2002).
ABOVE: The medal-winning 2002 World Championships team in Jerez, Spain – Terry Wood, Jan Tyrrell, team vet Brian Sheahan, Penny Toft, Kristie McGaffin, Meg Wade and Sue Crockett. Picture: PAT SLATER
So, maybe my knowledge of the sport is greater than I thought, developed from loving the Arabian horse and seeing names pop up in magazines. I got to know Penny Toft, mostly because her mother bred beautiful Shetland Ponies, and I followed Margaret Wade and her great Castlebar horses, but ask me what is involved in getting a horse fit, or what it takes to run this famous competition I have no idea. What I do know is that I have a great love of the world's most beautiful and tough breed that is the mainstay of the sport.
To see them in photos with 90 miles behind them and 10 more to go with ears still pricked and eyes bright makes me love them even more.
I look forward to expanding my knowledge on the finer points of this discipline over the next 12 months.
In the meantime, if any readers aren't already feeling inspired to take a closer look at endurance I urge you to watch this video, made to promote the upcoming Victorian State Endurance Championships and preview the beautiful country the Quilty riders will take on next year.
Put the dates in your calendar:
The Victorian Endurance State Championships - September 9 to 11, 2022.
The Tom Quilty Gold Cup - September 28 to October 1, 2023